"This neck is playing wonderfully! Your sanding work not only saved this neck, but brought it to perfection = There are no uneven spots and the radius seems very consistent throughout. I'll stress that the neck is playing great, and much better than before. I setup the trussrod almost straight and it gives a very good low action. I should say first that I've never played before a fretless bass with an epoxied fingerboard. The effect epoxy produces in the sound, for a first timer like me, is amazing: everything is brighter and all details come out clearer. As an instrument, I feel like the bass becomes more sensitive. Vibrato, which is essential in fretless playing, becomes more responsive, as if the rotating movement of the finger upon the string was now better "heard" by the neck.
I now realise that in 22 years or so of bass playing I've never come across a neck so well prepared for playing as this. I've been playing it now for about four hours since yesterday, and it's like I've never played a fretless before and didn't know what a pleasure it can be. Only for this you have dramatically influenced my life. I would really like that great fretless players (like Pino Palladino), you know, really famous ones (not like me) become your customers as well. "

Xavier Padilla: Paris France, Bassist for the Gipsy Kings 2000-2005: Fender Jaco '62 Reissue Jazz Bass, stock fretless. -More of Xavier's thoughts and links to his fine work.
Hey H(oly).G(od).,
I received my fretless Steiny back yesterday.
I 've always believed I had invested in the perfect instrument for my requirements and taste and I was right. The original "Brooklyn" set up and fingerboard were perfectly dressed and it was nothing short of amazing. After 24 years of intermittent gigging and recording, it's phenolic composite fingerboard degradation really became a disappointment.
Well I must say that your masterpiece, magical mojo has made this bass at least 40% better than it's original state of glory! I am literally stunned with the perfect quality of your work. Not only are there no dead spots anywhere, there is a consistent quality of sustain all over the neck. Holy Pastorius Almighty! Combined with the neck- through rigidity of the L-1 series and your special Thorified, Kryptonite- impregnated, distilled viking rune, hot sauce epoxy blend, the tone and sustain are ripping large holes in the time- space continuum! Killer job! Worth ever penny! Superior craftsmanship!You are an artist- absolutely perfect!
Can you tell I'm not unhappy?
State of the freaking art, dude!
cheers, jk
John Kilroy: Fine Artist & Fine Art Academy. Steinberger L-1 prototype #7, factory fretless. John Kilroy.com
My first fretless was a '63 Jazz in Olympic white with a matching headstock. Got it for just over $600 back in the mid-80's. Someone had ripped the frets out and filled them in with wood putty. I played it like this for a few years until the fretboard could take no more planings. The only option was a new fretboard, but nobody would do it due to the curved fretboard Fender was doing back then. I wound up selling it for $1000, which was the going price back then. You know what they're going for now. I kick myself regularly over letting that one go.
Since then I've owned fretless basses made by Warwick, Music Man, Dingwall, Lakland, and probably one or two others, and played many, many other brands. While they were all great instruments, I can easily say the work you've done on my Peavey surpasses anything I've owned or played. The sound coming off the fretboard is growly, glassy and woody at the same time, and any of those qualities can be focused upon by right hand placement and finger action. The bass can handle territory from grindy deep slippery heavy lines, straight-ahead rock, and obviously jazz (although I have no Jaco aspirations). The fretlines look great and the action is set up perfectly- just the right amount of fretless buzz if you hit it hard enough. The wood is gorgeous under the epoxy and it looks like it will last forever.Thanks again for making the bass awesome!
Mike Mobley: Redondo Beach, CA;Peavey Cirrus

"Hi Harris
I got the bass yesterday and finally got to unpack and play it earlier today for a little bit. All have to say is that you are a true artist - It's just perfect. It has added a whole new dimension to this instrument - I always thought it sounded a little dark the way it was. This just elevates it a whole different level. I'll be sure to post on TalkBass and give you a great recommendation. I can tell by the level of work you do you take great pride in what you do - and you should because it's just the best.
Thanx so much !!!"
Ed Iglewski Caldwell, NJ: Pensa Suhr, "Dedicated to Jaco" 4 string bolt-on
Owner Laughing Boys Recording Studios

"I sure can confirm all of the above statements concerning the quality of Harris' excellent work. In addition I really appreciate the communication during the work-phase and Harris delivering what he promises."

Hans-Christian Wehmeyer, Berlin (Germany), Fender Jaco Bass



"HG,
Just wanted to drop you a note to tell you the bass is amazing. Feels amazing, sounds amazing, looks amazing. Can't even notice the microcraters. The fretlines are perfect and the action and feel are superb. Wow. I am extremely pleased that this was done. I had originally questioned my logic taking a chance on a Sadowsky, but now having actually seen and felt your work, I am glad I followed my instinct. The testimonials on your website are not overstated, well done! And thank you."
Neil Holstein, CT; Sadowsky 5 string fretted
"It plays much better than it ever has, and is extremely responsive. I think the basic tone is also much enhanced, and will continue to improve as the strings mellow a bit. It's interesting how addictive it is to play it... must be some sort of endorphin release or something with each mwah... I really like the rotosounds, and the "liveliness" is awesome. I can't stop playing the thing! I love how it sounds and feels, truly. I am looking it, as you say, as a scientific exploration in search of the perfect fretless sound, and feel very good about the whole thing. I find it fascinating, I have to tell you. I really do wonder how we could explore this phenomenon more scientifically... "
Dr. Charles Limb, Johns Hopkins University otolaryngologist. Alembic Epic 4 string fretless.
"Within the NIH, I'm at the National Institute on Deafness and Other Communication Disorders, which focuses on issues pertinent to hearing. The research is funded via the government directly. In particular, I use functional neuroimaging techniques (functional MRI or positron emission tomography) to study the brain during music perception/production, to try to understand what's happening in the brain during sound perception."
Neural Substrates of Spontaneous Musical Performance: An fMRI Study of Jazz Improvisation

Very very good! I'm really happy with the bass, and (once more) the neck is nothing less than fantastic. Besides being very good at your craft you have also been a real gentleman to deal with. Very good service.

Lars Tinderholt: Oslo, Norway; Warmoth brazilian rosewood P neck.

"Thanks Harris,
I have to say, after seeing photos of your work I was expecting greatness but when I unpacked my neck it was amazing!! Then the good part - it plays like a dream. Thanks again,"
David Moran: Greenwich, CT, 2006 Fender Jaco Jazz (+ new bone nut).
"First impression...absolute perfection. I've eyballed this thing as close as I can and I can't find a flaw. There isn't the first hint of distortion in a necklong reflection on the fingerboard. The edges are finished perfectly and the back of the neck is satin just like you ordered. I'm very impressed.
Allan Hamilton; HAMBONE CUSTOM BASSES

Snellville, Georgia; Installing neck for Andy Svec, International Bassist, Guam
"Harris, The epoxy fretless conversion you have done for me is beyond any expectation I had. Thank you for giving me back a truly great instrument. I'm just now able to put her down long enough to write you, a day and a half after getting her back!
Your workmanship is the definition of impeccable. In one of our previous communications you said the fretline inlays were "totally factory". I'm sorry to disagree Harris, they are better than factory. You removed the frets perfectly and not a gap or miscut can be seen in the beautiful Maple inlay. The bone nut you made rivals those I've seen on the finest Jazz boxes. The kicker of it all though is the HGT epoxy coating. The application of the coating to the fingerboard, as well as the blend to the lacquer on the neck, is flawless.
I have owned a neck-through, ebony fingerboard fretless instrument for years. It's a fine instrument with fantastic tone but I am here to testify that there is more "wood", more sweetness and more make you wanna holler growl in my bolt-on HGT epoxy fretless conversion than old "Bessie" ever had. The epoxy provides a surface that allows all manner of articulation to speak clearly. The tone is even in all positions and the epoxy surface produces ringing sustain compared to a bare wood fingerboard. Plucking at the neck with the neck pickup favored gives a killer upright bass vibe while plucking down at the bridge with the bridge pickup favored gives......well uh, you know - and let me say I think he would have seriously dug it. With the epoxy I am even able to get a convincing "Yes, I have frets!" tone, something I've never been able to do with the bare wood bass. You have produced a process that I feel provides the ultimate fretless performance. The epoxy coating is not only beautiful to look at, it is a complete, utter joy to play upon as well.
I haven't found the words to thank you properly. Please know my deep appreciation for your artistic skill and that I will treasure this instrument the rest of my days." Best Regards,
Don Wiggins , Scottsdale, AZ. Fender Jazz Bass circa '77, full conversion. Check out Don's uberband: The Groove Merchants.

"I am still EXTREMELY happy with the bass!!!!!!!!!!!!!!!!!!!!!!!!!!!!!!!!!!!!!! :)
It was nice enough before I sent it to you, but the epoxied fingerboard kicked it up several notches - I don't know that I could go back to bare wood now, seriously. It sounds like no other bass I've ever played, and is "the sound I hear in my head". It allows me to be very expressive and even the tiniest bit of "English" put on the string stands out, vibrato-wise.
Like Mike Lull said when he gave it back to me after the body-refinish: "This thing just sings!!!!". :)
Over the past few months I've definitely noticed that the physical vibrations the instrument produces when played, and which I feel in my chest when I hold it close to my torso, are in fact much more pronounced than they were prior to the epoxy treatment... esp. on lower notes - like one would experience with a well-made neck-through, maybe an Alembic.
Also: no dead spots. None. Zip. Nada.

The work you did on the restoration of the swan still floors me - the little crescent moon is very. very nice (esp. the 3-D effect of it sitting on top of the fingerboard & under the epoxy - but the swan is the show-stopper.
I don't miss the Jaco at all. I enjoyed it while I had it and it was a good one to play while mine was with you... but I think I am an active-bass kind of guy and, well, I just love my Thor'ed bass. Period. The way it plays, the way it sounds, the way it looks. I don't know what I'd do if something happened to it - probably have to spend a fortune and get a customized Zon fretless...
I took it with me to 2 local music stores last month to try out some small combos and it got several double-takes at both stores - and of course I had to tell the story of it, with emphasis on the H.G. Thor chapter, natch. Like you said, it's a museum piece."
Scott Henderson, Seattle, WA. Custom made fretless neck by Brian Smith (worked for Alembic ~ 70's) on '68 Telecaster bass body reworked extensively by Scott, then Brian; complete pickup/preamp replacement and refinish by Mike Lull of Seattle

I just wanted to drop you line and let you know that I love what you have done for the bass. It is truly amazing what your treatment does. It really allows the bass to sing. The switch you replaced is also great.
-Ron Hilger, IL; 1960's fretted Hofner bass w/ CTC.

"Harris, I would have hit you up sooner, but I haven't been able to put the damn thing down for weeks. When I go back to frets, it's like I have to relearn how to play. The epoxy fretless is incredible!!! Your setup from the shop is superb! I'm amazed at how comfortable I am with this bass in such a small amount of time! Very sonically versatile...I keep finding new and interesting tones with the bass's onboard EQ, and I can get it to sound like everything from upright to slappy funk. I also changed out the flatwounds and put some rounds on it, and it completely changed the tone again. It's all growly and grindy, the way I always thought a bass should sound. This instrument is not a one trick pony.... it's a funk monster!!! The epoxy fretless modification was the best investment I've made to my music in a lot of years!!!! I apologize for not getting back to you sooner...I've been playing a lot of live shows lately and I put the fretless to work right when I got it out of the box. I have played on unlined fretless basses in the past, but I was kind of thrown off by them. The fretlines on this bass really show up well, and my sound is like butter now that I know where I need to be on the neck. You're right about the sliding harmonics...what a trip!!! Your work is unparalleled by anyone else's that I've come across. People ask me about it all the time and I refer them to your website. All I can say is that it is simply amazing!!! Thank you so much for your hard work on my bass, and I certainly hope to do business with you again!"
Eric Daigle, Lake Charles, LA. Warwick JazzMan 5 full conversion
"Harris, I am astounded by the work you did on my bass neck. It is INCREDIBLE! I greatly appreciate your fine craftsmanship. I will be steering people in your direction if ever I hear that they need this type of thing done. I have owned a Pedulla Buzz bass, and other fretless basses, but your work is second to none if you dig what I'm saying! Best Regards,
John P. Inghram: Charleston, WV
"I've had the neck back for a week now and I can tell you that I am delighted with your work. I've already had many compliments on the sound and looks. It is all that I expected, and more. I'm really happy to have sent it all the way to you rather than having the job done here. Thank you,"

Edgar Currie-Clark, Nivelles, Belgium; Fender Jazz factory fretless neck.

"Hey Harris, I finally got the neck on the body today, and it sounds amazing. It plays beautifully and sounds even better. This bass finally sounds like a fretless does in my head, and the way a fretless should, plenty of added tone and dimension came through after the epoxy. I can't thank you enough... My fretless stingray has come with me to every session I've done since I've had the neck epoxied... I appreciate the work you've done on my bass, it is amazing and I couldn't ask for better. All my best and thanks,"
Jackson Eppley, AL. Unlined Fretless Music Man Stingray. Bassist: Adelayda; Lava/Atlantic recording artists, Course of Nature; The Dynamites. Nashville studio musician.

"The fingerboard feels great, and I definitively like more the way the bass plays now, every note comes out with a very sweet, strong and defined sound, and as you stated, the satin look works well with rest of the bass. Well, thanks one more time for your great work, ...I will be playing this bass a lot more ;-) Saludos y Muchas Gracias!"

Enrique Barberi Monterrey, NL, Mexico. Custom E.L. Barberi bass
Harris,
"Sorry for the delay in your update...I've been playing this awesome instrument any chance I get!! This bass has been transformed from a nice, quality instrument into an unbelievably expressive extension of my creative thought! What a responsive touch! Every note seems to "play itself", to jump out of my brain and slide off the fretboard! I have never in my life played a bass that was so fluid, easy and almost anticipated where my fingers would land. The action is exactly what I had imagined, and the sustain is unbelievably greater! You, Sir, are a Master Luthier. You are single - handedly responsible for pushing me into that next higher phase of musicianship I have so desparately been working towards. Thank you many times over, Harris! I only regret that I have but one more Jazz Bass to send you (if my wife fails to stop me!!). I am incredibly impressed with your work, and I am now on the hunt for another Jazz to send. Greatest Thanks!!"
Rodney MacDowell, San Jose CA: '97 Fender Jazz fretted, Badass III, Hipshot tuners, bone nut.
Greetings Mr. Thor.
"It has been 2 summers since you met me, my 2 sons and my stock American Fender Jazz Bass, all from Upstate in Utica, NY. When I got home with my "new" instrument, it was amazing. I had been out of practicing regularly for about 18 years and have since gotten back into playing with local big bands and friends. My family actually gets annoyed at how much time I want to spend with the bass instead of them. Maybe you need to put a consumer advisory warning to that effect on the back of the neck WARNING: Playing a Thor epoxy treated bass may lead to family/marital problems. Even writing this testimonial is making me want to play. The comments I get on the sound of the bass are always positive. The bass is really tending to take the limelight away from me (ha-ha). I practice constantly. The bass sleeps in the corner next to my bed and every night and morning I have to "steal" time to play it, in between taking care of the kids, house, wife and job. It is so inspiring a sound and feel that I am playing better than I ever did before. I use Rotosound roundwounds on this bass and true to form, your epoxy doesn't wear. And I beat and play the hell out of it. It still looks/plays/sounds great and the sad part is that we may never do business again, at least not on this bass.
My advice to perspective converts to fretless, is DO IT and DO IT RIGHT -- THOR-IT !! "Thoritize" your bass now!! (You like that name? Catchy--huh). PS It seems as though my notes above don't include THANK YOU."
Joe Karwacki, Utica, NY: '2004 American Fender Jazz restored from putty job.
"Harris, The quality of workmanship remains in my eyes outstanding, but what I most want to convey, is my appreciation of the tone. As you know, I've always gone for a "bright" sound, using round-wound strings. What I found, was I had to admit the bass was actually too "bright" after your epoxy work, even for my ears, and I change roto-sound round-wounds every couple of weeks because they go dead to my ear. My solution, was to go to D'Addario half-rounds, the nickel ground-wound strings. The result, is fabulous. The feel of the strings to my fingers is very similar to the round-wounds I've played all my life, and unlike using these strings on my fretted basses, the sustain is outstanding, and more importantly, the classic fretless growl and "mwwwuaa" is much enhanced.
My biggest problem right now, is that I have to learn how to play the instrument that has what I think is the fastest action attainable, as a result of sending the entire bass to you to do both your epoxy magic and the physical setup.
Here's what I would recommend to future customers....send the entire bass. I did, and I'm glad I did.
Thanks again, Harris. The wait and the cost was well worth the result, I couldn't be more satisfied with the quality of your workmanship, and the results, both in terms of playability and in tone. This was truly, money well spent. Please feel free to use my words as testamonial, I would recommend you to any bassist looking to get a truly fine defret.
Finest regards,"

Update, April 2009: "This is two years later, and I'm still 100%, completely satisfied. In my first testimonial I said that I'd had to go to ground-wound strings, as my customary round-wounds were just too bright to my ear, but that's changed, I'm back to round-wounds. Didn't take long, just took a little change in technique. I'm not a working musician, but I put the bass to work about ten to fifteen hours a week, and in two years time there is not even the slightest hint of wear, even with the round-wounds. I was pleased with your work then, and I'm even more pleased today, two years later. I recommend you at every opportunity.
Best regards,"
Erik Miller Lakewood, California. Fender Dimension V fretted bass.
"I really don't know what to say, Great Job!!!! I haven't written lately but, I've been so busy playing "Alexia" (Irvin's name for the bass). Man that bass smokes! I'm so comfortable with it, and it has more tonal variations than I will ever use!... Once again, job Well Done!!"

Irvin Joseph: Naples, Italy
"See? This is why I wanted the HG logo on it! Incredible craftsmanship! Like a dark red mirror. I appreciate the warranty and set up support. That alone separates you from the luthier hacks out there. Based on the product I've received, you are an master craftsman. This goes beyond my expectation, and I'll be directing all inquiries your way. Thank you again!"
Greg Trombo: Altamonte Springs, FL: Ibanez 5 String (Editor's note: Greg is one master craftsman himself when it comes to graphic art!- hgt)
"Dear Harris, Thanks to your incredible epoxy work this formerly useless plank has been turned into an amazingly beautiful sounding fretless bass. I bought this factory fretless unlined Japanese Fender Jazz Bass in 1990 in hope for the tonal beauty of what my ears were used to hear from Jaco Pastorius, especially the Joni Mitchell album "Don Juan's Reckless Daughter" features the sound I was looking for, but by itself my original Fender bass was just plain useless since it neither played nor sounded well - until now. Suddenly with the improved epoxy fingerboard it is all there, all the growl as on the Joni album, now I can hear the "Jericho"-sound from my own fingers. I had made many (mostly cosmetical) upgrades to the bass during the years, but only the epoxy fingerboard did all of the improvement! However, the dark fretlines were a silly idea of mine since you can barely see them, but on the other hand this somehow keeps the clarity of the fretless look, probably the perfect solution for somebody as indecisive as me. Next time however I will go for the lighter fretlines. In any case, I cannot imagine anyone doing this work better than you! Thanks a billion for your amazing work and friendship!
Biggest cheers,

Hartmut Engel, Munich, Germany; MIJ Fender Jazz bass. Mr. Engel is a multi-talented CGI artist and co-ordinator: Engel-Art.com
Hi HG,
I wanted to send you this e-mail expressing my complete joy at the workmanship you did with the bass. The epoxy job is outstanding and I love how it plays and sings with that epoxy finish. I feel like it has brought this bass back to life...if you know what I mean.
I am so impressed that I would like to get another bass on the waiting list... The next bass is my true Bass of Doom, as I had John Elliot at Bravewood Guitars make a relatively exact copy Jaco's '62 fretless jazz bass (roughly from the Joni Mitchell period) and he has done an excellent job by many accounts from a number of luthiers I have consulted. You mention you offer an option for the Classic Thick Coat (CTC) just like Jaco...that's what I have to have.
I've also heard good things about the Fender Roadworn basses from some my friends (fyi, we're older guys btw), which were not available when I ordered the Bravewood ( also have a relic'd Nash P bass similar to Pino's fiesta red P-bass that is a really good copy) but I haven't tried the Roadworn's yet myself (I did try the relic'd Fender Custom Shop Jaco Pastorius Bass but I like the Bravewood better...and actually the epoxy job on the Fender Custom shop model is not as good as your work).
Thanks again!--Tom
Tom Curatolo: 1999 Sadowsky Modern 5 Lined Fretless (morado fingerboard)
"Well, congratulations, Mr. Harris. You succeeded in keeping me up all night playing my new fretless, so now I'm struggling to stay awake at work this morning. Even after waking up late this morning, I managed to play the thing a little while longer, making me extra late. I just couldn't put the thing down. I was able to get the action lower than was ever possible before, and still not get a pinched tone. It's amazing how much more responsive the fingerboard feels. It also looks great! I like the uniformed blackness of the ebony. I can't wait to show it off at my church this weekend. I was afraid that I'd have to take some extra time to get reacquainted with playing fretless after not touching one for a few weeks, but all the playing time I'm getting with it is sure to fix that. I'll be sure and send everyone I know your way! Thanks again!"
Jason Sikes, Daphne, AL; Ibanez 5-String GWB-1
"So, here it is! The Japanese fretless! I put the neck on the body of an old acoustic guitar and put two sound posts inside to reinforce the top and to make the back vibrate since I had to reinforce the top's underside with a big, fat piece of wood to mount the neck, the pickup and the bridge. I covered the pick up with 1mm maple to make it look like the bridge of an upright, and put a very long endpin. The sustain with roundwounds is impressive, as well as the partials and the harmonics, but I settled for D'addarios flats, which gives it a very upright sound when unplugged. It's louder than I expected. The epoxy makes the flatwounds come to life. I thought I would be able to practice late at night unplugged, but my wife complained about the volume!! I friend of mine has a $3,000 fretless and my bass sounds better than his! I think he turned 3 tones of green when he heard it! An upright player also tried it and liked it very much. Finally! an electroacoustic upright I can take on the train that won't leave me broke! Thank you Harris!"

Jose Valdes, Matsue, Japan; Ibanez neck on acoustic body
"Hey Harris, WWOOOOOOOOOOOOOO!!!!!!!!! That is awesome, the most beautiful thing I've ever seen. I'm very happy with it, I'll definitely mention you to everyone I know. THANK YOU."
Storm Cindur; Greenfeild, MA; Warwick Thumb bolt on 6 string fretless unlined.

"Harris, the neck arrived safely today. I just put it back on the bass and played for a while, and my initial impression is one of sheer delight. I am extremely pleased with, and indeed awed by the quality of your work.
I wouldn't characterize the tone of the bass as being vastly different in character from what it was before the neck treatment, it's simply much smoother, clearer and more consistent. It's still my bass, only MORE and BETTER. There is no harshness at all to the tone - it's sweet and bell-like, with no unwanted buzzing or rattling even with a very low action. The most striking difference to me is one of playing feel - the bass is incredibly responsive to my touch, to a degree I did not believe possible. The ease with which notes speak is incredible - the response is precise and effortless. The bass practically plays itself. Response and tone is utterly consistent across all strings and down the entire length of the neck. It's literally like playing on glass."
Alan Okey, Troy NY; '89 Kubiki fretless.

"Harris
A quick note to let you know I reassembled the new Guitar Lab epoxied neck to my bass. It came together beautiful. Your setup guide made the adjustment and intonation process easy. You should label this pamphlet "Setup Guide for Dummies". I am thrilled with the physical results as well as the sound. The action is sweet and the intonation is spot on. This is a worthwhile investment. I can't thank you enough!" "
Mike Burns: Auburn, NY; G&L JB2.
"I received the neck on Saturday and couldn't be more pleased with your awesome workmanship! In fact, I ordered a new alder P-Bass body from Warmoth, fully finished, routed and pre-drilled so I know everything is going to line up and look perfect."
Chuck Fuller, Flower Mound, TX; 78 Fender P-bass maple neck.
"Harris. I picked up the neck yesterday. Man this thing is killer. Everything is together. Just a few adjustments with the intonation and this was singing. Thanks once again for your work and excellent communication. I truly appreciate it. Keep up the exceptional work."
Aaron Kravitz, Medway, MA, USA Fender Jazz factory fretless
"Mr. Thor is a true artist. The work he did on my Epiphone Casino is revolutionary. I have never played or heard anything like it. The project is very much a collaboration with clear, concise communications during the whole process. It was a wonderful experience for me to work with someone with such professionalism. I can't wait to have my Fender Jazz bass done next!"
Winston Hung, D.M.D. BOSTON, MA.; Epi Casino guitar full conversion.
Hear a sample sound of this Casino played by HGT through a V-Amp with a JCM 800 setting: Casino.mp3
See the Epi Casino page.
"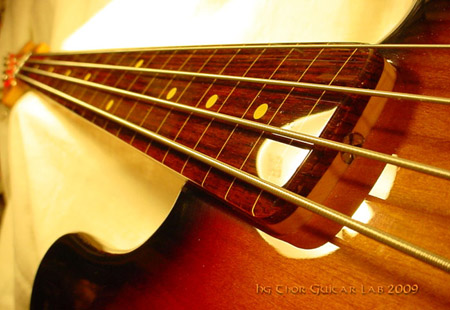 "I am really, really happy with how the bass turned out. I want to thank you, again, for your incredible patience and hard work. The results far exceed my expectations. I really couldn't be happier. Thank you so much! I really do appreciate the tremendous effort that you put into working with me and on my bass. From start to finish it was a pleasure to work with you. "
Chris Lintop, Berkeley, CA; Fender Jaco bass, CTC applied
"Hi Harris Spent the weekend with Don Juan's Reckless Daughter cranked up on the IPod doin' my best Jaco imitation! I'm not Jaco yet without some more practice, but you made the guitar as good as, if not better than, Jaco could have hoped for! I'm running the bass through a Keeley compressor, a bit of Holy Grail reverb into a Mesa Walkabout Scout cab. And, it sounds wonderful. The benefits of the epoxy fingerboard and roundwounds is obvious, particularly the improvement in the articulation of the notes! Of course, that clarity makes it more abundantly clear that I need to practice, but I now have an incentive! BTW: the neck is even more beautiful in person! Thanks again for all the work. A check is in the mail (as of this morning) & you've got a new Guitar Lab reference anytime! Regards,"
Ed Pierce, Mount Laurel, NJ; Fender Jazz factory fretless
"When I found someone who would do the work that Harris Thor does I was ecstatic. Not only did my instrument come out sounding one of a kind , it was done by a true craftsman that I would call a gifted artist. The work was perfect on every aspect of the instrument. All the best to Harris Thor!!!!!"
Brandon Dyer, La Salle, IL: Fender '64 Jazz Reissue Custom Shop Relic fretted bass (HGT: very sweet!)

"I just wanted to say a big "THANK YOU!!". I'd have written earlier but I've been spending a great deal of my spare time with my HG Thor-transformed fretless. What a beautiful voice it has now! I was blown away when I got it back by the appearance of the epoxy and the subtle fretlines but the tone absolutely took my breath away. As good as it sounded with my Carvin nickel roundwounds on it, I took your suggestion and put some Roto (RS665LC) stainless steel rounds on it, which gave me even more of that elusive mwah that I've only heard players like Jaco, Mark Egan, and Pino Palladino achieve. Never in my wildest dreams did I think that I'd have a bass that sounded like that and, now that I've experienced it first hand, I just can't stop playing! Pre-Thor conversion, I used to play 30-45 minutes every other day. Since getting my fretless back from you, I've averaged at least 2 hours/day -- and I want more!!!
This wonderful conversion is worth far more to me than the price I paid for your excellent craftsmanship. It's transformed my playing and given me a whole new appreciation for subtlety and expression in my technique, as I can now hear the articulation so much better. I had mentioned to you that, by necessity, this fretless would be a working bass. Now I'm torn between wanting to show off this work of art and wanting to keep it out of smokey bars! Of course, I'll *have* to gig with it - something that looks and sounds so incredible just can't be hidden away!
Sorry for all of the gushing but I had to let you know how truly satisfied I am. Without a doubt, this was the best equipment investment I've made in my 33 years of playing bass. Now I have only to enjoy it and live up to the potential of this fine instrument which, oh darn, means I'll have to practice even more!
Thank you so much!"
Regards,
Steve Tracy; Bluegrass, VA; Carvin LB75 5-string fretless unlined. Fretlines installed and tinted.
"Outstanding work. It plays great and I couldn't be happier. Everything seems louder, juicier and brighter with better sustain and easier vibrato. Thanks a ton and I will send pics and an audio sample and a more thorough review at some point but right now I just can't put the bass down ;)). Cheers,"

Ken Williams, Victoria B.C. Canada, '72 factory fretless P bass
"This bass is now what I had once envisioned in my mind."
JC Alza, NYC, '78 Fender Jazz, full conversion
"Harris- The bass arrived today. Man, I NEVER thought a Fender bass could play like that! VERY nice. The fretboard is beautiful and the strings just want to sing on it. Tons of sustain, the notes seem to jump up to my fingers! The finish on the back of the neck is exactly what I was hoping for. (hgt: The finish sanded off and hard oils applied)Really feels good. I'm used to having to work harder to play it. I'll never go back now... Thank you, a very nice job! And the set-up is superb. I want to send you my Acoustic Fretless (Tacoma Thunderchief) for a fretboard treatment in a couple of weeks. Now, here's a question for you: I have two other basses that need a good set-up. I've not found anyone decent here and I'd like to send them to you... Thanks Again!"
David Yates; West Chester OH; '87 Fender Jazz reissue 4 string factory unlined fretless.
"Hi Harris, Well I finally got a chance to evaluate the neck you did for me. First of all, I think your workmanship is outstanding. How you get the finish so smooth and shiny I guess I'll never know. As for playability, it seems my fingers slide into the right spot much easier than the neck with factory finish. It seemed with that original finish, there was a great deal more friction when sliding around on the neck. Also, the bass seems to have greater sustain and the notes tend to sound more resonant than before. The neck also makes a great mirror for that last bit of pre-performance primping. Thanks for all your hard work and expertise."
Bob Benoit, Midland, MI, Fender Jaco Fretless. (See three part picture on main page)
"Harris, I received my bass yesterday! It is everything I hoped it would be. It's not the same instrument that I sent to you (in a good way)! I can't believe how low the action is- playing is effortless. It now has a luxurious playing feel, almost like an exotic sports car. The sustain and "mwaa" are incredible. The setup you performed on the bass is flawless. I've been playing guitar since the early '80s (and the bass for a shorter time) and I have come to be able to appreciate the fine detail work done by talented luthiers such as you. The bass that I assembled and sent to you came back to me a functional work of art. I can't wait to show the bass to my friend Bill Jackson, one of the best local players. One of his many exploits is playing bass in Aja, an incredible Steely Dan tribute band, which I also do photography for. Check out http://www.ajamusic.net - the photos were all taken by me. Anyway, I love the bass! (Did I mention that?) Thanks again,"
Phil Weiskittel, New Richmond, OH, Warmoth neck/body
"Hi Harris, Hope all is well back East. Finally finished my 5 String Epoxy Fretless. First, Thank You very much for the fine work you performed. You are an Artist."
Mike Thomasetti, Tooele, UT: Fender 5-string neck full conversion, custom bone nut.
"Neck arrived yesterday. It is absolutely fabulous, and I haven't even refined the action yet. It's better than I expected, and I expected it to be great. Thanks for the incredible job. I can't wait to hear it with the band."
Patrick Harman, Santa Cruz, California: Fender vintage '62 reissue from '83.
"Dear Harris,
The Music Man neck arrived today - what absolutely beautiful work you do! Thanks so much!"
Peace,"
Mike Falcone, San Diego, California: Music Man Sterling neck, full conversion.
"I really appreciate everything that you have done for me, and I wish you all the best. You are truely a legendary Luthier, and your professionalism is second to none! Thanks for the great work...it looks/feels/sounds great! thanks a whole lot!"
Andres Jaramillo
"The neck is awesome!! Better than I imagined. U DA MAN!!
Thanks a million!!! You did a GREAT job."
Frank Speer, Little Falls, New Jersey: Dean Jeff Berlin, full conversion.
"I received my neck today... all I can say is OHHHH WOW!!! The inserts and the tissue paper are a great touch. ... overall, it's a great job. Thanks! Now if I can just get the time to finish refinishing the body I will have a 1st class bass again!"
Thom Wright, Vallejo, California: 1972 Fender Jazz, full conversion.
"The bass arrived, and it is awesome! I played it unplugged right when I got it, and it looks great and sounds even better. You did a great job."
Kirby Wilson , Salt Lake City Utah: Fender American Deluxe Jazz bass, full conversion.













"That bass is simply incredible now. I just gave it a 2 hr. work out, and words cannot describe how pleased I am. I don't ever remember playing a bass that sounded this good. The tone is amazing. Simply amazing. The action is dead on perfect. You should be very proud of yourself for offering such an amazing service. I'm speechless, I'm so happy. YEA !!!!!!!!!!!!! Thank you Jesus, for HG Thor. He is the man !!!!!!!!!!"
Andy Gibson, Dallas TX, Syme custom bass.
"Hi Harris... the Jazz arrived safely on Monday, and I've been playing it. Looks great, sounds great. I'm having a hard time getting used to doing the cello-type vibrato rather than the usual string bends, but other than that, I'm completely satisfied. I may switch to the Rotosound Solo Bass SM55's once these Fenders get cooked, just to protect the epoxy job all the more. You did a great job on getting those body scratches out! The setup is also nice, exactly what I was looking for. Thanks a lot. I have your cards, and will be sure to pass them to all interested parties. Your work is as promised, and then some. Everyone who's seen it has marveled at the beautiful appearance of the fingerboard. Once I explain the procedure and its purpose, they are even more impressed."
kindest regards,
Chris Marcum, Dayton, OH: Fender Mexican Jazz, stock fretless.
"...I am very satisfied with your work and would recommend you with no hesitation or reserves. The strings are great, nice and light with just the amount of brightness that I like (GHS Ground Roundwounds). That's a nice info sheet you enclosed too; and the tissue paper wrap around the strings is also a nice touch. I really appreciate the extra mile you go to."
John Douds, PA: Carvin XB 76 (6-String fretless neck through)
"Already there is more punch, power and sustain than before! Its easier to play - more slippery without being wet. The upright tone is precisely what I'm looking for."
Mark Tomeo, Riverdale, PA, '99 Fender Jazz factory fretless.
"It arrived in perfect shape. It sounds great and the set-up is unbelievable! Thank you very, very much. I do have another fretless bass that I would love to send you for setup. Its a Gary Willis Signature Ibanez 5-string... Thanks again for the terrific work"
John Ross, CA: Fender Jazz factory fretless
Hear John playing this bass: John Ross.mp3
"Dear Harris. Here is evidence that the bass is being put to good use. Man its great! I honestly was never quite satisfied with its tone until now. Several folks inquired about its sound after this show. It sings! This is one of my 3 bands- Nervous System
Thanks again, Bill"
Bill Stevens, Columbia, SC, Fender 2000 Fretless Jazz
"I played the fretless at band practice yesterday. I had a song in mind for it, and in drop D tuning, it worked very well! The guys liked it, and they'd never experienced a fretless sound before in a band. We also free-jammed on a blues lick that I just started throwing out in between songs, too. Played that for about 5 minutes, a lot of fun! The bass is so sweet, now. You took my mediocre bass and made it stellar. Thanks again.
Joseph "Jody" Jordan: Knoxville TN, Yamaha BB350F
"Wow, Harris, I got the bass today, and it is GREAT. Thank you so much for the work you put into it, and all I can say is that I have a lot of stuff to learn and lots of new possibilities on this bass. I'll make a recording for you and a more in depth review once I play it some more. But so far, it's perfect, exactly what I wanted. Thank you so much."
Mike Dagonese, Buffalo, NY: New Warmoth built from parts.
"Hey Harris, Great job on my bass, I could't be more pleased with the work you've done. I will definitely recommend you to anybody that's needs work done on their guitars. I put my Thomastic strings back on and rolled off the treble on my amp and WOW what a sound, deep thundering bass and no mudd. The compliments I got tonight on the sound of this bass were amazing.
Thanks Again,"
Bud Wirth, Millmont, PA, Ibanez Roadster full conversion.
"I have been practicing with the new neck for countless hours this summer... The bass the neck is attached to is a 1998 Fender American Deluxe Jazz Bass. It has the active electronics, lighter tuners and 22-fret neck. The epoxy neck is simply smooth and fast. After a few days on it and dialing in the setup, the fretted felt painfully cumbersome to play again... the hardness of the epoxy coupled with some stiff roundwounds (currently DR Lo-Riders, 45-105s, I'd use a lighter gauge but that's the only gauge the stores in the city stock) gives the bass a killer midrange growl that really cuts through any band. The sound has been improved immensely. The neck is beautifully done and I get many compliments on its looks and sound, and if anyone I know were looking to get a neck done, I'd send them to you!"

Karl Kohut, Winnipeg, Manitoba, Canada: 98 Fender Am Deluxe Jazz
"I received the neck today, it is truly wonderful. The bass went together well and is now set up and in playing condition. (T)he bass now plays liked I imagined it would. Thank you so much for your fine craftsmanship and attention to detail."
Rocco Criazzo, Youngstown, OH: EB Music Man Sterling, unlined fretless
By the way the neck arrived safely yesterday afternoon......wow! looks like the coating on surfboard! and you got those little dings off the sides of the fretboard!.....the sound is so much brighter, I can hear it sing when I play that fill from "the sound of music" at the end of "slang!" Excellent-excellent job! (alot better than the store I bought the bass from had to offer!)

Bryan Harris, Japan; Japanese Fender Jazz factory fretless.
Harris, I recieved the bass on friday. All i can say is phenomenal!!!!!!!!!!. I cannot believe it is the same guitar. The neck is beautiful and the tonal qualities are superb. The added Aguilar preamp adds something special. I could not put it down all weekend. Thanks for all your help.
Peter Cannistraro, Waltham, MA; 2002 Fender American Standard Jazz Bass
"His fir-bodied basses with Moses Graphite necks and EMG pickups come incredibly close to singing the sounds I carry around in my head. The craftsmanship is superb; the playability, exceptional. And, to my eye, the appearance of each bass is subtle yet stunning. I also own and play an HG Thor guitar capable of conjuring an amazing array of sounds and musical personalities. If it were possible, I would fill my music room with instruments made by Harris G. Thor."
Jeff Davis
"I will probably never need another bass again. My only complaint is that it's very heavy, and that's what makes session recording the very best thing about it. If you are having the same problems as I did, call HG, design a body, and have him make a bass for you. I got exactly what I wanted. Cheers....."
Mike Wu
Forum Speak:
(You are welcome to send in any others!)
All 4 Bass Bass Neck Work
Jacopastorius.com: What Epoxy Should I use
Jacopastorius.com: DIY Fretless
Forum on TalkBass.com: How to Coat My Fretless With Epoxy
DudePit: Epoxy Fingerboard at Thor
TalkBass.com My Ibanez SR-500 (w/ HG Thor Epoxy!)
Warmoth Gallery 1: Chuck Fuller's Bass

Owner's Suggestions:
(Please send in your ideas too!)
Steve Tracy:
The compound (I use for polishing between string changes) is Meguiar's Scratch X and it's available at Wal-Mart or any auto parts store, for about $7.99 per 7 oz. tube.
I like a very glossy sheen on the epoxy so I followed the Scratch X with 2 coats of Meguiar's NXT Generation Tech Wax (best "wax" I've ever used on my cars). Its synthetic polymer adds a deep shine and also fills in any light scratches or swirls that remain. I've already been using it to protect/shine the polyester gloss finish on my basses so I assumed that it's also safe for "glossing" the epoxy. The Tech Wax is about $15/bottle and is also readily available from the stores above.
Thanks, Steve
©1998-2006 HG Thor Guitar Lab. All rights reserved. No reproduction or redistribution of text, pictures or sounds without written consent.
*
"It ain't bragging if you can back it up!" -Jaco Pastorius